When you look in the mirror do you see the 99% of things about yourself that are beautiful and make you unique? Or do you let that 1% that's maybe not as desirable in your eyes ruin the whole picture. As the years go by I am beginning to notice that a vast majority of people are not happy with their image. When people are not satisfied with their image it can begin to have a negative effect on their mood. When someone does not feel beautiful or handsome they may begin to lack confidence, feel sad, and even become jealous about others around them. So what is the solution to this dissatisfaction? Some people suggest that wearing makeup will help you cover up your so called flaws and make your prettier. Other's suggest that you should give your hair a change by either cutting it or dyeing it. I do agree that some beauty products can help to enhance features and give a person confidence with their image. But should our joy and confidence be only dependent on our outward appearance? I believe that true happiness does not come from our appearance but from our relationship with God. True beauty is not found on the outside but in ones character and attitude. Today I would like to share with you some Bible verses regarding beauty. I hope that these are an encouragement to you and make you reconsider what your view is on beauty.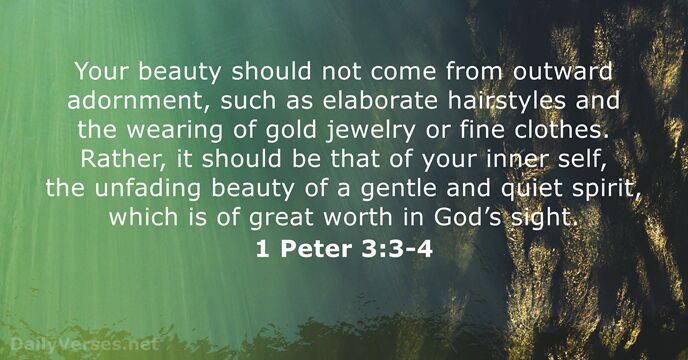 Your beauty should not come from outward adornment, such as elaborate hairstyles and the wearing of gold jewelry or fine clothes. Rather, it should be that of your inner self, the unfading beauty of a gentle and quiet spirit, which is of great worth in God's sight.- 1 Peter 3:3-4
One part of this verse that I really like is the last few words. It says "the unfading beauty of a gentle and quiet spirit, which is of GREAT WORTH IN GOD'S SIGHT." This verse doesn't say that expensive clothing is of great worth to God, or that God considers those with fancy hairstyles better than others. This verse tells us that things that we put so much pressure on do not matter nearly as much to God. Too often we are quick to judge people based off of what we see on the outside. But God does not look only on the surface but judges what is on the inside. The truly beautiful person is not the one who looks nice on the outside but spends their life gossiping or breaking down others. The truly beautiful person is the one who know swho they are in Christ. It is not wrong to wear makeup or style your hair but we need to make sure we aren't determining our self worth based off of these things.
Charm is deceptive, and beauty is fleeting; but a woman who fears the Lord is to be praised.- Proverbs 31:30
It seems to be that we often admire and give praise to those who have a pleasant appearance. But do we admire those who do behind the scenes work or are simply kind hearted? Why do we give all the recognition to people who are simply pretty but not to someone who maybe cleans the bathrooms at church. "beauty is fleeting" is an important reminder for us all. As we go through life our bodies wear down, become scarred, and wrinkle. But an inward beauty will never wrinkle or wear down.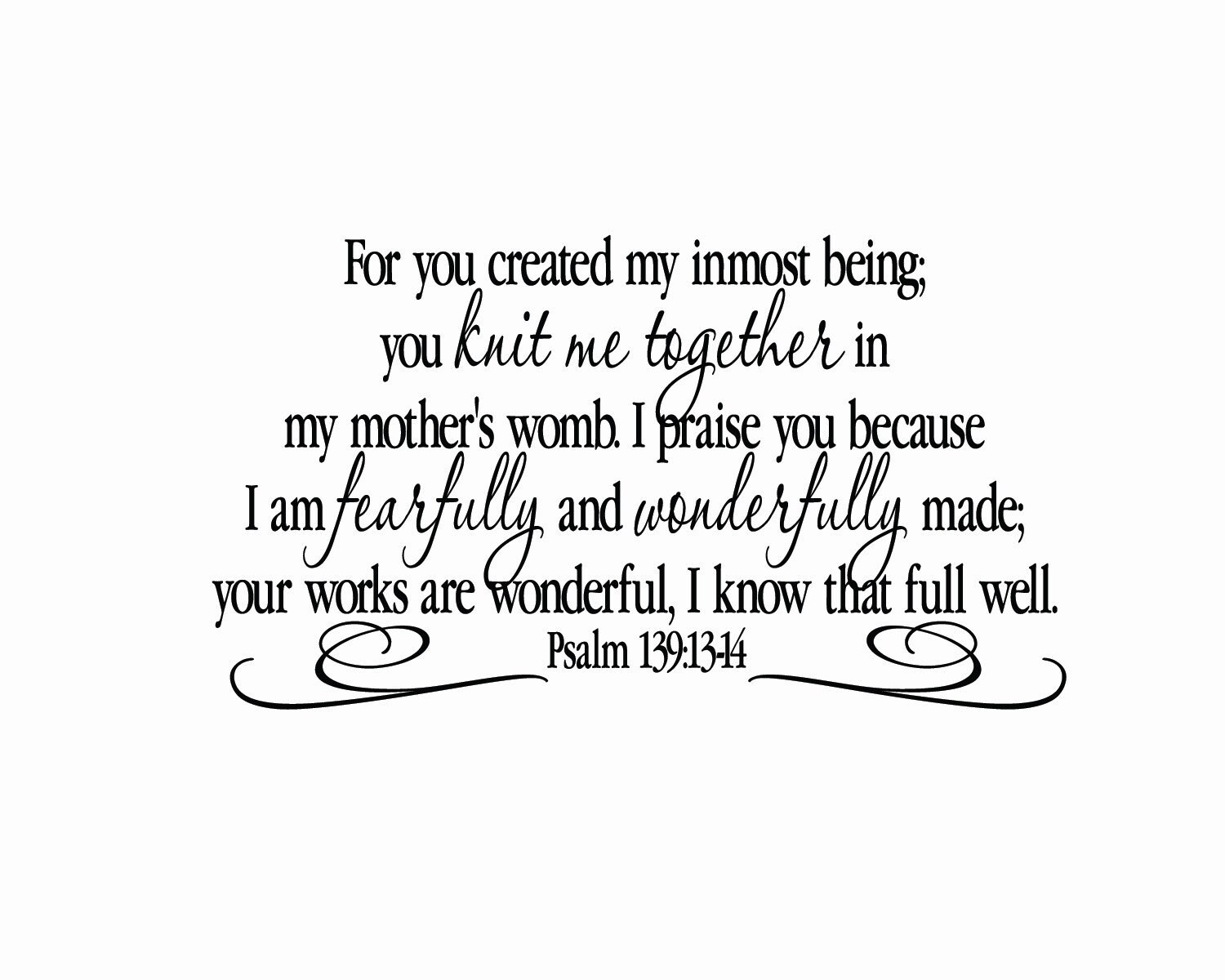 For you created my inmost being; you knit me together in my mother's womb. I praise you because I am fearfully and wonderfully made; your works are wonderful, I know that full well.- Psalm 139:13-14
You know what I find amazing? That the creator of the universe personally created every little detail about me. He created me with a specific hair color, eye color, height, and many other little things. As the verse says, "For you created my inmost being." God specifically created every little unique detail in you. So often we can find ourselves wishing we had someone else's perfect nose or someone else's curly hair. But we need to remind ourselves that God makes no mistakes and He made us to be how we are. You are beautiful in God's eyes. "I am fearfully and wonderfully made; your works are wonderful, I know that full well."
"But the LORD said to Samuel, "Do not consider his appearance or his height, for I have rejected him. The LORD does not look at the things people look at. People look at the outward appearance, but the LORD looks at the heart."- 1 Samuel 16:7
The verse before says, "When they arrived, Samuel saw Eliab and thought, "Surely the

Lord

's anointed stands here before the

Lord

." But God then answered Samuel telling him not to judge based off of outward appearances. The ending of this verse is a powerful statement. "man looks on the outward appearance but The Lord looks on the heart." Unfortunately we are all guilty of being quick to judge what we see on the surface. For example we can be quick to introduce ourselves to someone when they have a pleasant appearance, good hygiene, and fancy clothing. But how quick are we to try and make friends with someone who maybe has a distinct smell, old clothes, or even strange quirks. It is encouraging to know that our God is not like us when it comes to viewing others. He looks deeply into a person and sees where their heart is and if their motives are pure.
"Therefore we do not lose heart. Though outwardly we are wasting away, yet inwardly we are being renewed day by day."- 2 Corinthians 4:16
This reminder that our bodies are slowly wasting away can be a bit of a discouraging reminder. No mater how many anti ageing products we may try, this process of ageing is simply unavoidable. As we get older we may not be as athletic as we once were and our skin may not be as smooth and clear. If we choose to determine our worth and happiness based off of our appearance, life is going to get more difficult. But this verse says that we should not be discouraged because although we may be wearing away on the outside, day by day we are being renewed on the inside. Our physical body isn't getting any younger but every day we can be made new in our inward being by Jesus Christ our Savior. He can give to you peace, confidence, and renewal every morning. Trust in Him as your savior.
-Nothing is more beautiful than a woman who is brave, strong, and emboldened because of who Christ is in her.-
Photo Sources:
https://dailyverses.net/beauty
https://churchgraphics.wordpress.com/2012/04/29/mothers-day/
https://www.etsy.com/listing/207564929/i-praise-you-because-i-am-fearfully-and
https://biblia.com/bible/niv/1%20Sam%2016.7